As I was reading about the different values of art, the one that resonated with me most was the religious value of art. I recently got back from a trip to Israel and Jordan and almost all of the art there has some sort of religious meaning. There are thousands of years old mosaics that depict creation and temple architecture built for Roman and Greek gods. One thing that stood out to me the most was the Basilica of Annunciation and all of the different portrayals of Mary. All along the outside walls are pictures of Mary from different cultures. Religion and faith give value to art. I had never really thought about this before.
I thought all of the methodologies of approaching art were very interesting. I saw a lot of Iconology approaches when I was in Israel. The method I found most interesting was psychoanalysis. It is quite amazing that we can analyze art to understand humanity better. I think people use many different ways to express themselves, and if art is one of those ways, then of course it would be telling us something.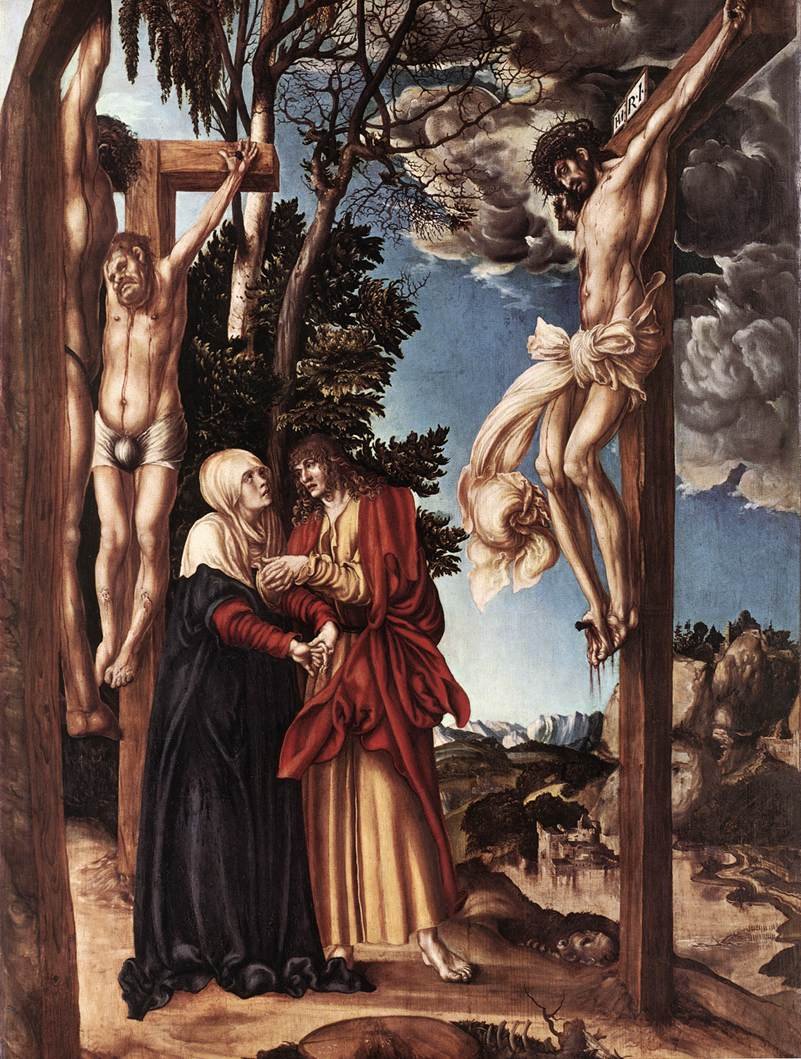 Lucas Cranach, Crucifixion Chapter 18 p. 331
The painting that I chose to analyze is Lucas Cranach's, Crucifixion. Cranach is depicting the crucifixion of Jesus among the two other thieves. He uses lines and planes that are vertical to depict height and I believe Jesus' eventual ascension. This also gives the view of looking from above. Cranach uses movement by the wind shifting Jesus' cloth and the clouds. The clouds above Jesus are dark and use hues of black. This symbolizes Jesus' fateful death. Overall, the hues are dark, but there are lighter colors around the bodies of the crucified men and around John's red cloak. There is a lot of texture in this painting from the ominous clouds to the green trees. The shapes and lines contrast with each other from the hard lines of the crosses with the soft circles of the clouds and cloths. Overall, this painting depicts Jesus' death and humanity.